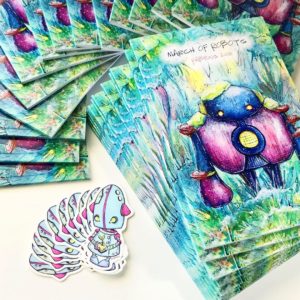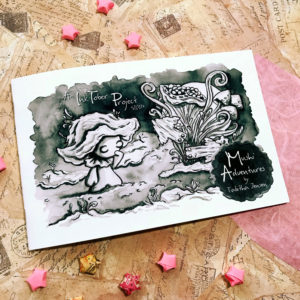 Currently available books:
March of Robots – a full color, perfect bound softcover art book featuring all of the Robots I created for #MarchofRobots in March 2018 with bonus pages of robots created in previous years.
Mushi Adventures – a saddle stitch, black and white zine featuring all of the ink paintings I did of my mushi (mushroom folk) during #Inktober October 2017.
Works in Progress:
ATCitupwithfriends – A Global Artist Trading Card project (final name TBD)- A Hardcover 150+ page Full color art book, featuing the art of over 100+ artists from the #ATCitupwithfriends art Community. I run a monthly challenge and trade sketchcard community and this will be our annual artbook. Volume 1 will contain Nov 2016 – all of 2017 and is currently in the formatting/design layout stage. Anticipating release the later part of 2018.
An annual artbook compiling works from each year.