SCHEDULE | INSTAGRAM |  TWITCH.TV | FACEBOOK | TIKTOK | KO-FI | ETSY SHOP 
New Online Store & Kickstarter – coming soon!
You can support me as an artist and small business by shopping on my Shopify store that will be opening in late October / Early November. Etsy takes a big chunk out of sales for small businesses so I've decided to open my own store. I will keep my Etsy shop open with a limited selection, and still add products there, (so you'll still get alerted if you are an avid Etsy shopper) but I hope you will decide to come shop here instead!

Sign up for my Newsletter below to get notified when the shop opens! (I only send maybe 1 – 2 newsletter emails a year – when big things happen! 
– I am launching a kickstarter campaign soon to raise funds – take orders for blankets! Luxuriously soft minky & faux fur blankets in 3 designs, 2 sizes. One is limited edition!
Sneak preview of one of the designs!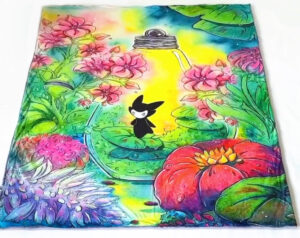 For those of you that like receiving good old fashioned snail mail I have a monthly happy mail you can sign up for over on my Ko-Fi subscriptions page. I would send you a handwritten letter each month with a sticker (and possibly other stationery goodies).  You can also see sneak peeks on my Ko-fi and Twitch that you don't normally appear on my other social media!