#ATCitupWithFriends ATC Monthly Trade Events hosted by Pabkins.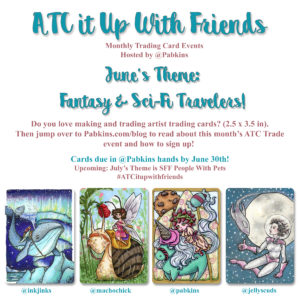 THEME: Fantasy or Sci-Fi Travelers
DUE To Host by:  June 30th, 2017 (due in my hands by this date!)
SIGN UP: READ THIS BLOG POST! – I know it's long but PLEASE READ IT!, Fill out the Questionnaire at the bottom if you haven't previously (you only fill it out once)! – then email pabkins at gmail dot com with "TRAVELERS" and your instagram ID in the subject line
JUNE THEME:
Fantasy / Sci-Fi Travelers & Adventure!
For this months theme I really want to challenge you to create a little scene if you can. Portrait style cards are still ok but I think a bit of challenge is good for the artistic soul and I'm putting this theme out early so you have plenty of time! Break outside the box and get creative. As the theme is TRAVELERS & ADVENTURE so your card should either feature a traveler or how to travel, or a setting that indicates adventure . And what is the best thing about Traveling anyways!? Adventure of course! So have fun on yours!
Examples & Ideas: 
A character riding a fantasy/sci-fi mount of any kind
or perhaps the mount lost its rider and you see it with an empty seat or saddle, or its a ship, flying boat, floating island, robot suit, something anything where you know someone could be inside or on it.
A character in some from of transportation, Moving house, moving castles, House boats, Floating islands, Cities or towns on the backs of huge animals, space ships, Fantasy way stops
Your character hiking through their fantasy landscape
Common Travelers: Bards, Minstrels, Gleeman, Gypsies, Adventurers, Hikers, Scientists in the field
Common Forms of SFF Travel: Interesting fantasy animals mounts, Gypsy Wagons, Trains, Dragons, Zeppelins, Airships, Flyers, Hang-gliders, mechanical wings, Time Machine,
Something to indicate they are on an adventure, are traveling, questing or going someplace. You know that feeling when you are reading a book and you turn the page to see an illustration and you know that this book or character is going someplace.
Please think about background, accent, composition and Be creative and make some gorgeous cards! Many folks participate monthly. You want your cards to be unique so that if someone receives another of your cards that don't feel like they are getting the same thing each month.
Please be creative and DO NOT SEND practically identical face shot cards. This makes it very difficult for me to swap cards if you send the same composition of face cards each month.
Click here to see a PINTEREST Board for some inspirational pleasure!