#ATCitupWithFriends is an ILLUSTRATION, Fantasy & Science Fiction focused
Art Challenge and Trade Group
ATC Monthly Trade Events hosted by Pabkins.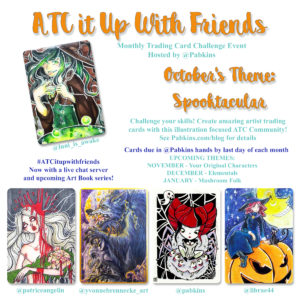 THEME: Spooktacular
DUE To Host by:  October 31st, 2018 – UPDATED – Extended due date – just mail it by NOV 15th so it gets to me by the end of November!
How to Request to Participate: You must either be an existing member of the ATCitupwithfriends community or you can fill out the form at the bottom on this page to be placed on the waiting list. Currently the monthly trade group is full and is for the time being by invitation only. New folks will be added from the waitlist as space becomes available. Please still fill out the form if interested in participating! If you've been specifically invited by Pabkins, fill out the form and you will get a confirmation email. Thanks for your understanding as there are now approximately 90-100 artists that participate each month. email ATCitupwithfriends@gmail with questions.
ATCitupwithfriends now has a planned Artbook series! The info on how to be included is in the signup form at the bottom on this post.

Joining the trade does not guarantee inclusion in the book(s) – thank you for understanding.
We have a live text chat room via Discord. Here is the link! Come hang out, get feedback and lots of other things!
There is also a fun monthly newsletter, signup is in the form.
~~~~~~~~~~~~~~~~~~~~~~~~~~~~~~~~~~~
See me open envelopes each week on Tuesdays @ 1030AM PST on my TWITCH CHANNEL!
OCTOBER's THEME:
SPOOKTACULUAR!
THERE WILL ALSO BE A SPECIAL SPOOKY ACEO AUCTION OCTOBER 18-21st on FACEBOOK
( EVENT LINK HERE ) to fund raise for the group's 2year anniversary and supplies.
Do you love horror and gothic everything!? Or is creepy cute more your thing? Spooky, eebie jeebies, creepy crawlies, deadly beauty, aesthetic blood perhaps? Well then this is the month for you! Let loose the demon dogs and all things wicked, dark and dangerous! Anything Spooky goes, typically that means horror, gothic and well just downright creepy but if you like creepy cute then by all means do that! If your spooky is a beautiful vampire enchantress, or a seductive Dracula then chill me to the chore with that beauty. This is your interpretation of the spooky!
BRING ON THE SECOND YEAR OF SPOOKTACULAR! This is NOT a Halloween theme so you don't have to make it look "halloweeny" but a spooky theme in October helps make things easier for all of the folks who are also doing Drawlloween and Inktober and any other horror challenges in October so they could still participate in #ATCitupwithfriends as well.  This was our most popular theme / month in 2017 – can we bring the spook and out creep last year? I think we can!
Remember while I will swap Fan art in the group it will NEVER be included in the annual ATCitupwithfriends Art Book due to legal copyright reasons. Plus this group is meant to encourage the creation of your own original art. Thank you for understanding. Plus fan art is difficult for me to swap around, so please try to avoid it and create your own characters. 
If ever in doubt just shoot me an email to ask a question. Send signups and any questions to ATCitupwithfriends@gmail.com 
~~~~~~~~~~~~~~~~~~~~~~~~~~~~~~~~~~~~~~~~~
These monthly themes are intended as a CHALLENGE as well as a way to trade fabulous original art and bond our little art community. Please rise to the challenge and treat your fellow artists with respect by putting in your best efforts. If you are unwilling to put forth true effort then please do not apply to join!