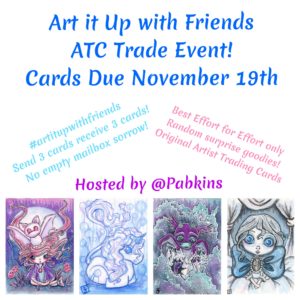 Do you like Artist Trading Cards? Do you want a reliable and successful trade with surprises!? Then join this ATC trade event hosted by Pabkins.
ATC Group Trade Event:
THEME: Fantasy Character or Creature (or both!)
DUE To Host by: November 19th, 2016 (due in my hot little hands by this date!)
SIGN UP: email pabkins at gmail and sign up for this Swap Round only and receive the mailing address.
UPDATE: Participant list is currently above 50 – so if you plan to participate sign up quick before I put a cap on this round!
HOW IT WORKS:
– CREATE 3 ORIGINAL artist trading cards from the above theme and send them in, receive 3 cards from different artists in return.
– All Artists mail their cards to Pabkins (who has over 50 successfully completed trades) she'll mix them, switch them, and mail each artist back out 3 different artists cards in return.
– THE BEST THING ABOUT THIS SWAP!? No one gets screwed! Ooops sorry did I say that…yah I did! Many of you have been left sitting on your porch waiting for that artswap that just never arrived! That cold sad empty mailbox feeling…the struggle is real! I sympathize with you – it has now happened to me more times then I care to count. So DON'T be left waiting & wondering if you'll ever get something back!
– CLEARLY write: your name, InstagramID, #ATCitupwithfriends, Date and Location in the world ON THE BACK OF EACH CARD! *crazy laughter* so everyone knows whose cards they end up with.
– SIZE MATTERS! Cards absolutely must be the standard size of 2.5 x 3.5 inches with straight cut edges or your cards will be returned unswapped.
– ORIGINALS only! No prints, No Copies, no tracings, no stolen art, don't reference someone else's photo or someone else's illustration to death. Referencing is fine just don't you know copy everything about it because that is still just a copy. Art theft is just not cool. Hand drawn or painted cards only! Don't make 3 practically identical cards, that does not show creativity or effort. Believe me when I say you can't expect awesome cards if you don't send awesome cards. No collage, stamped, embellishments that popup from the surface and No glued together bits and bobs. If you are into collage and mixed media cards please visit ATCSforAll.com as they have many open swaps for those there.
– In this TRADE EVENT, You only GET cards IF you SEND cards to Pabkins for the trade stack.
– PLEASE PUT IN YOUR BEST EFFORT! I cannot stress this enough! Artist Trading cards are NOT intended as quick slap dash works – they are mini works of art! Put forth a true effort otherwise why bother? No one likes to pour their heart and time into a piece of work to then receive a 15 minute doodle in return. Don't do it. I'll give you the stink eye from afar. I know we are all capable of fabulous art so don't wake the Dragon by sending in sub par efforts and then get grumpy when you get back cards that are someone else's sub par efforts. Goodness now I'm getting grouchy worrying about it!! In actuality this is the ONLY thing I am worried about on this project is that folks will not put forth their best efforts and then be disappointed because they receive cards in return they don't like. Lets all lead by example and make this fun but going all in and knock out some fantastic mini works of art! Represent what what! haha can you tell I take this seriously because I do not want anyone unhappy with the cards they receive in return. *maniacal laughter* With that said….
I will be ATTEMPTING TO SWAP OUT CARDS BASED ON AN EFFORT FOR EFFORT BASIS. Fill up that card folks with visual awesome that makes someone want to booty shake on their strut back from the mailbox! So please pretty please put in your best effort…yeah I said it again.
– INDIVIDUALLY sleeve each card in a plastic penny sleeve, no hard sleeves necessary. You can cut up a document protector if you want to make your own or plastic kitchen saran wrap works in a pinch. Just don't send them naked in case of bad weather.
– I advise taping the edges of your envelope if you're international, frayed envelope edges happen often because letter post goes through slider machines which consistently wears down the edge of the envelope. We don't want those cards falling out so throw a piece of washi tape on the plastic sleeve and secure the card to a piece of paper inside the envelope. Why all the fuss? Because cards WILL fall out if you leave them look inside the envelope, seriously it happens!
How Pabkins is going to send you return cards!?
– U.S. ARTISTS: include 1 Forever Postage stamp
– INTERNATIONAL ARTISTS: please donate $1.20 via the Paypal friends and family method to pabkins @ gmail as that is the price of a U.S International postage stamp. (of send a US International stamp if you have that instead) Message if you can't afford postage I will angel a few spots.
– ALL ARTISTS: Include a RETURN ADDRESS LABEL, STICKER LABEL PREFERRED! Clearly write your return address, if I can't read it how can the postal worker? bwahahahah. DO NOT FORGET! addresses are often obscured or destroyed upon delivery, don't make me hunt you down there are a lot of participants, .
PABKINS WILL SUPPLY!:
– I WIL SUPPLY: the return envelopes, sleeves for those that forget, Random flat goodies depending upon availability, a glitter bomb (beware it might happen), prizes, randomly selected envelopes will received a ATC Print of one of my previously created cards, postage if you were silly and forgot (please don't forget there are now over 40 participants and that would get pricey if you all forgot!). All return Envelopes will be mailed back out within a week after the closing due by date.
– Cards must be RECEIVED by Pabkins on or before November 19th 2016, NO EXCEPTIONS will be made. I will do my final check of my P.O. Box on that day and will not check it again until I've mailed out the returns. So if your cards arrive late they won't make it into the trade.
– SENDING EARLY IS FINE! SENDING LATE IS NOT! Cards not received by the due date WILL be sent back to the artist unswapped. Punctuality is a sign of respect to your fellow artists. Don't wake the dragon. If you're really wanting to be in the trade you have over a month and a half to make your cards and mail them. It's getting closer to the holidays and the closer it gets the longer postal delivery takes. Keep this in mind.
– AVERAGE DELIVERY TIMES: U.S. Letter Post takes 3-5 days, Canada 4-10 days, from International 7-15 days.
– I will post an Instagram story video as new batches of cards arrive – feel free to reply to the video if you are dying of love for certain cards. I'll try to keep that in mind but of course no promises. I do like to know though since I want to try and make sure everyone enjoys the trades.
– Keep it P.G. No blatant nudity. If you make it really hard for me to swap your cards into the stack …let's just say I'll be a sad panda…don't make me a sad panda. We all want crazy manically happy players in this game!
– Optional: – "Host Gift Card" Do you feel like putting a smile on the crazy Pabkins face!? The Trade sites I frequent have this marvelous thing called a "hostie" its just an extra 4th card made as a thanks to the host for…you got it! Hosting! Hosting can be lots of work, lots of fun work in my opinion! You host, maintain the list, do reminders, provide shipping supplies, covering the cost of postage overages, and postage for those silly folks that forget to include their stamp, supplying extra random goodies, create backup cards for possibly sub par or damaged cards, and maybe I'll even consider prizes *oooooo we'll see*. Essentially just ensuring everything goes smoothly. So if you feel like "Making Pabkins Happy" Create an extra 4th gift card. (Same theme or a "junk character/creature carrying stuff" …she just loves those lol) It will be loved, petted, treasured – she'll try to keep fondling to a minimum…and yes we still talk in the third person. This is not required at all so don't even worry about it if you don't want to or don't have time. I'm just an addict, cards and coffee is how I get my fix….I'm jonezin seeeeeee.
– Optional: Post your WIP cards! Post your finished cards! and even the cards you receive in return at the end on instagram and hashtag #ATCitupwithfriends #Artitupwithfriends. Why not do a sneak peek of the batch before you send it out!? Get all those other traders fired up!
– Optional but Recommended: Photograph your cards, or Scan your cards if in case the worst happens. Email or DM a picture to me just so we know they exist and also you have a copy in case the dreaded postal goblins eat them. It's sad but it happens sometimes. Send me a courtesy email when your cards have gone postal so I know they are en route.
– Optional: Random Act of Kindness: – Hosting events and goodies add up on my expenses so extra stamps, cards or postage fees are always gladly accepted but in no way expected.
– Optional: email Pabkins with any feedback, suggestions, oodles of love or wails of sorrow. My email box is always open.
You know what ISN'T Optional though!? FUN – FUN and Loving those cards! Love what you make so we fellow traders will love what you make. The awesome card that someone gets back just might be that card you created! Don't send in a card that you wouldn't LOVE to have in your collection. Round 2 will hopefully go live if Round 1 is a success!