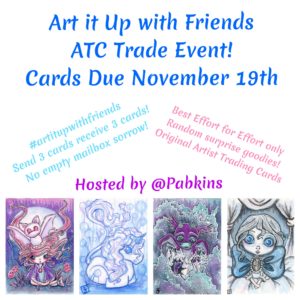 Do you like Artist Trading Cards? Do you want a reliable and successful trade with surprises!? Then join this ATC trade event hosted by Pabkins.
ATC Group Trade Event:
THEME: Fantasy Character or Creature (or both!)
DUE To Host by: November 19th, 2016 (due in my hot little hands by this date!)
SIGN UP: email pabkins at gmail and sign up for this Swap Round only and receive the mailing address.
UPDATE: Participant list is currently above 50 – so if you plan to participate sign up quick before I put a cap on this round!