Do you like Artist Trading Cards? Do you want a reliable and successful trade with surprises!? Then join this #ATCitupWithFriends ATC trade event hosted by Pabkins.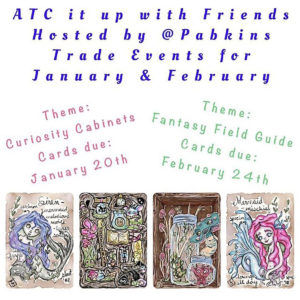 THEME: Curiosity Cabinets
DUE To Host by: January 20th, 2017 (due in my hot little hands by this date!)
SIGN UP: email pabkins at gmail dot com with "Curiosity Cabinet" in the subject line and your instagram ID to sign up for this swap group (signing up will also place you on the #ATCitupWithFriends email list for future swap events, you can unsubscribe at any time)
Curiosity Cabinets have been around for a long time, folks love to collect oddities and store them in cabinets and on shelves until they have a cabinet full or trinkets and wonders. For this trade you will make a curiosity cabinet. I have created a pinterest board full of example ATC Curiosity Cabinet cards as well as real life curiosity cabinets. Hopefully these can help inspire you. You can fill your cabinet with whatever you like but the card must feature a cabinet filled with curiosities, drawers and doors are fine as you can see from the examples. The best way is to turn the entire card into the cabinet.
Need help drawing things like cabinets? Try using a Perspective grid to map out or draw your cabinet
PINTEREST BOARD: CURIOSITY CABINETS – for inspiration and examples