Do you like Artist Trading Cards? Do you want a reliable and successful trade with surprises!? Then join this #ATCitupWithFriends ATC trade event hosted by Pabkins.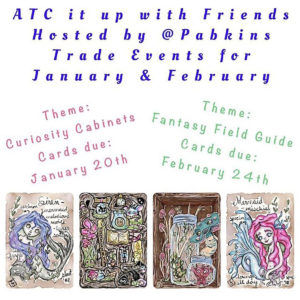 THEME: Curiosity Cabinets
DUE To Host by: January 20th, 2017 (due in my hot little hands by this date!)
SIGN UP: email pabkins at gmail dot com with "Curiosity Cabinet" in the subject line and your instagram ID to sign up for this swap group (signing up will also place you on the #ATCitupWithFriends email list for future swap events, you can unsubscribe at any time)
Curiosity Cabinets have been around for a long time, folks love to collect oddities and store them in cabinets and on shelves until they have a cabinet full or trinkets and wonders. For this trade you will make a curiosity cabinet. I have created a pinterest board full of example ATC Curiosity Cabinet cards as well as real life curiosity cabinets. Hopefully these can help inspire you. You can fill your cabinet with whatever you like but the card must feature a cabinet filled with curiosities, drawers and doors are fine as you can see from the examples. The best way is to turn the entire card into the cabinet.
Need help drawing things like cabinets? Try using a Perspective grid to map out or draw your cabinet
PINTEREST BOARD: CURIOSITY CABINETS – for inspiration and examples
HOW IT WORKS:
– CREATE 3 ORIGINAL Hand drawn or hand painted artist trading cards from the above theme and send them in, receive 3 cards from different artists in return.
– All Artists mail their cards to Pabkins (who has over 60+ successfully completed trades) she'll mix them, switch them, and mail each artist back out 3 different artists cards in return based on an Effort for Effort basis.
– THE BEST THING ABOUT THIS SWAP model!? No one gets screwed! You only receive cards if you send cards. So if you can't meet the deadline its fine no one gets effected.
– CLEARLY write ON BACK OF EACH CARD:
Your name, InstagramID (if you use instagram), #ATCitupwithfriends Curiosity Cabinets", Date so everyone knows whose card they received.
– SIZE MATTERS! Cards absolutely must be the standard size of 2.5 x 3.5 inches with straight cut edges or your cards will be returned unswapped.
– ORIGINALS only! No prints, No Copies, no tracings, no stolen art, Referencing real life and photos is fine just don't reference someone else's photo or illustration to death such that it isn't your own.
Hand drawn or painted cards only! Don't make 3 practically identical cards, that does not show creativity or effort.
No collage, stamped, embellishments that popup from the surface and No glued together bits and bobs. Papercut is fine as long as it's your original work.
– PLEASE PUT IN YOUR BEST EFFORT! I cannot stress this enough! Artist Trading cards are NOT intended as quick slap dash works – they are mini works of art! I swap the cards on an effort for effort basis so try to push yourself to new heights.
– INDIVIDUALLY sleeve each card (plastic, saran wrap, a cutup document protector whatever just protect it from possible bad weather.) I advise securing your sleeved card to a note card with washi tape so in case the edges of the envelope fray then your loose card won't slip out the edge of the envelope (it happens)
OPTIONAL! You are welcome to donate any 5×7 or smaller prints, stickers or flat items if you want and I'll put those randomly into other artist's return envelopes. Please nothing above 5×7 as the evelopes I send out do not exceed that size. Thanks so much!)
HOW IS PABKINS GOING TO SEND BACK CARDS?
– U.S. ARTISTS: include 1 Forever Postage stamp
– INTERNATIONAL ARTISTS: please donate $1 via the Paypal friends and family method to pabkins @ gmail as an international postage stamp costs $1.20. If you can't afford postage and still want to participate in the swap please message me.
– ALL ARTISTS: EMAIL Pabkins when you mail your cards so she knows to expect them.
– INCLUDE a LARGE and CLEARLY WRITTEN RETURN ADDRESS , sticky label preferred (come on make it easy on me!, or a piece of paper with your address clearly written on it and I'll tape it to the envelope.
PABKINS WILL SUPPLY!:
– I WILL SUPPLY: the return envelopes, sleeves and postage overages, Random prints, stickers or extra originals. Extra cards or host cards are appreciated as they help me augment damaged or lost cards. (Thanks everyone who sent extras during Round 1)
All return Envelopes will be mailed back out within 5-10 days after the closing due by date depending on number of participants. (55 participants were in Round 1 that was a LOT swapping, writing, taping, stuffing and envelope licking!)
– Cards must be RECEIVED by Pabkins on or before JANUARY 20th, 2017. I try to give a short grace period if you've mailed out in a timely manner and notified me asap. But PLEASE MAIL ON TIME!!
– SENDING EARLY IS FINE! SENDING LATE IS NOT! Cards not received by the due date might be sent back to the artist unswapped. Punctuality is a sign of respect to your fellow artists. If you're really wanting to be in the trade you have almost 2 months to make your cards and mail them.
– Optional: – "Host Gift Card" Do you feel like putting a smile on the crazy Pabkins face!? Then if you have time make an extra 4th card for me. Some extra cards I've put back into the mountain of cards to add random extras in some of the envelopes!) This is not required at all do don't worry about it if you don't want to or don't have time. Hosting can be lots of work, lots of fun work in my opinion! You host, maintain the list, do reminders, provide shipping supplies, covering the cost of postage overages for those silly folks that forget to include their stamp, supplying extra random goodies, create backup cards for lost or damaged cards. Essentially ensure everything goes smoothly and hopefully provide extra goodies.
– Optional: Post your WIP cards! Post your finished cards! on instagram and hashtag #ATCitupwithfriends. Why not do a sneak peek of the batch before you send it out!? Get all those other traders fired up!
– Optional: FILL OUT THIS ARTIST INFO QUESTIONNAIRE so I know a little about your artistic tastes when the time comes for me to swap cards!
You know what ISN'T Optional though!? FUN – FUN and Loving those cards! Love what you make so we fellow traders will love what you make. The awesome card that someone gets back just might be that card you created! Don't send in a card that you wouldn't LOVE to have in your collection.