#ATCitupWithFriends is an ILLUSTRATION, Fantasy & Science Fiction focused
Art Challenge and Trade Group
ATC Monthly Trade Events hosted by Pabkins.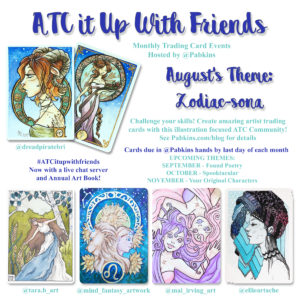 THEME: Zodiac-sona
DUE To Host by:  August 31, 2018 (due in my hands by this date!)
TO SIGN UP: UPDATE: Signups for August are now closed – please signup for another month! 
You must READ THIS BLOG POST!  – then fill out the questionnaire form at the bottom of this page (only fill it out the first time you join the group, all other months you want to participate you MUST email ATCitupwithfriends@gmail (I'm actually really easy going, so don't let all this FAQ blog scare you away!) AFTER you submit your form a confirmation email will be sent to you with the mailing address usually 1-3 days after. You must be 18 years of age AND have a PUBLIC ART FOCUSED instagram account.
~~~~~~~~~~~~~~~~~~~~~~~~~~~~~~~~~~~
See me open envelopes each week on Tuesdays @ 1030AM PST on my TWITCH CHANNEL!
August's THEME:
Zodiac-sona!
That's right, many of you have asked so here it is. For this challenge you will create Zodiac cards! They MUST include the symbol somewhere on the front of the card. The "sona" is because I want you to personify the sign. But what does that mean really? I've seen the "sona" tag float around on instagram and usually its added onto the end of a word and you create a character based on it. For this though you are find for it to be a Person or creature but you absolutely MUST have something on there other then just the symbol or constellation. It cannot be only a starry night sky constellation or just the symbol alone. That would be considered lack of effort and I will not accept it for swapping. Try to get creative. I highly recommend using this as an opportunity to push yourselves to compose something wonderful that you would love to receive in return. Ultimately, when we reach for more as artists we are able to achieve more and further heighten our skillset. (Don't forget best efforts as now we have an annual art book!)
Please try to send a variety of signs, be sure you write the sign name on the back of the card as well. Include in your envelope a piece of paper that says "INSTAGRAMID is a "Your Sign". I would like to know but please keep in mind I cannot and will not guarantee that you will receive your same sign back. Think of this as a chance to start a zodiac card collection.
PINTEREST BOARD FOR INSPIRATION
Remember while I will swap Fan art in the group it will NEVER be included in the annual ATCitupwithfriends Art Book due to legal copyright reasons. Plus this group is meant to encourage the creation of your own original art. Thank you for understanding. Plus fan art is difficult for me to swap around, so please try to avoid it and create your own characters.
If ever in doubt just shoot me an email to ask a question. Send signups and any questions to ATCitupwithfriends@gmail.com 
~~~~~~~~~~~~~~~~~~~~~~~~~~~~~~~~~~~~~~~~~
These monthly themes are intended as a CHALLENGE as well as a way to trade fabulous original art and bond our little art community. Please rise to the challenge and treat your fellow artists with respect by putting in your best efforts. If you are unwilling to put forth true effort then please do not apply to join!