#ATCitupWithFriends is an ILLUSTRATION, Fantasy & Science Fiction focused
ATC Monthly Trade Event hosted by Pabkins.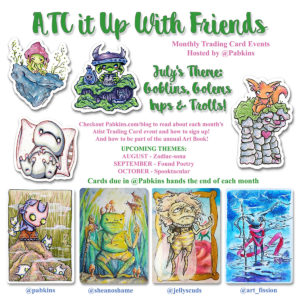 THEME: Goblins, Golems, Imps & Trolls
DUE To Host by:  July 31, 2018 (due in my hands by this date!)
TO SIGN UP: You must READ THIS BLOG POST!  – then fill out the questionnaire form at the bottom of this page (only fill it out the first time you join the group, all other months you want to participate you MUST email ATCitupwithfriends@gmail (I'm actually really easy going, so don't let all this FAQ blog scare you away!) AFTER you submit your form a confirmation email will be sent to you with the mailing address. You must be 18 years of age AND have a PUBLIC art focused instagram account.
~~~~~~~~~~~~~~~~~~~~~~~~~~~~~~~~~~~
See me open envelopes each week on Tuesdays @ 10AM PST on my TWITCH CHANNEL!
ATCitupwithfriends now has an Annual Art Book! How to participate is in the signup form below
Signing the agreement for inclusion does not guarantee inclusion in the annual art book. Thank you for understanding
July's THEME:
GOBLINS, GOLEMS, IMPS & TROLLS!
For the trouble making creature lover! These fantasy races need love too. So explore their world and create your own goblin, golem, imp or troll. I have compiled an amazing pinterest board full of all of these creatures. Keep in mind some key things to remember about such creatures, they are of the darker fae, known for mischief, and some for violence. Don't let the name of their species worry you, they come in a wide variety of shape and form and you can get creative and make your own! Some are beautiful but many are goofy, sinister, comical, physically large and imposing, or itttty bittty bitty. Typically I see goblins depicted green and trolls grey but you don't have to make yours those colors I've seen them in a wide variety of skin colors! They do share a common trait of being closely tied to nature. Have fun and I can't wait to see yours!
PINTEREST BOARD FOR INSPIRATION
Remember while Fan art is acceptable but I'd much rather you create your own unique creatures and characters! Please DO NOT COPY exactly an existing illustration or artist's work. You can be inspired by to create a piece in your own composition but you should not be redrawing an existing artist's work nor screen captures from films. If you are paying homage to the great fantasy masters Froud of Diterlizzi who are known for their fantasy creatures please be sure you put YOUR OWN spin on it!
If ever in doubt just shoot me an email to ask a question. Send signups and any questions to ATCitupwithfriends@gmail.com 
~~~~~~~~~~~~~~~~~~~~~~~~~~~~~~~~~~~~~~~~~
These monthly themes are intended as a CHALLENGE as well as a way to trade fabulous original art and bond our little art community. Please rise to the challenge and treat your fellow artists with respect by putting in your best efforts. If you are unwilling to put forth true effort then please do not apply to join!