#ATCitupWithFriends is an ILLUSTRATION, Fantasy & Science Fiction focused
Art Challenge and Trade Group
ATC Monthly Trade Events hosted by Pabkins.
PLEASE CONSIDER BACKING THE KICKSTARTER FOR OUR
FIRST ARTBOOK BEFORE THE END OF NOVEMBER! So we can make it a reality!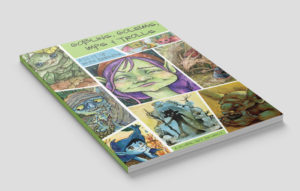 THEME: Elementals
DUE To Host by:  December 31st, 2018 (due in my hands by this date!)
~~~~~~~~~~~~~~~~~~~~~~~~~~~~~~~~~~~
See me open envelopes each week on Tuesdays @ 1030AM PST on my TWITCH CHANNEL!
DECEMBER's THEME:
ELEMENTALS!
Elementals are creatures or characters created from a natural element. Typically the main elements are Earth, Air, Fire and Water but you can get really fancy with it, basically make those elementals from any element in nature! Thunder and Lightning elementals? Lava elementals, earth elementals can be made of anything from the earth that is nature, plants etc, mud haha, water well water but hey you could do Ice, Fog or mist maybe? (sounds challenging to me) Really there are so many possibilities! What is NOT an elemental is a "mermaid" – unless she is made of water, or a "bird" unless that bird is made of fire or air or lightning. They have to exhibit an element. Get creative and have fun!
AN ELEMENTALS PINTEREST BOARD FOR INSPIRATION
If ever in doubt just shoot me an email to ask a question. Send signups and any questions to ATCitupwithfriends@gmail.com 
~~~~~~~~~~~~~~~~~~~~~~~~~~~~~~~~~~~~~~~~~
These monthly themes are intended as a CHALLENGE as well as a way to trade fabulous original art and bond our little art community. Please rise to the challenge and treat your fellow artists with respect by putting in your best efforts. If you are unwilling to put forth true effort then please do not apply to join!