#ATCitupWithFriends is an ILLUSTRATION, Fantasy & Science Fiction focused
Art Challenge – Trade Group
ATC Monthly Trade Events hosted by Pabkins.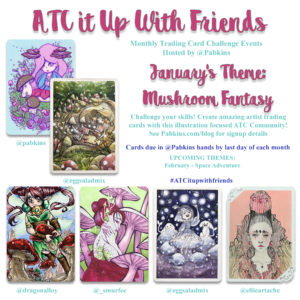 This theme will be our SECOND ART BOOK!
THEME: Mushroom Fantasy
DUE To Host by:  January 31, 2019 (due in my hands by this date!)
~~~~~~~~~~~~~~~~~~~~~~~~~~~~~~~~~~~
See me open envelopes each week on Tuesdays @ 1030AM PST on my TWITCH CHANNEL!
January's THEME:
Mushroom Fantasy!
Are you ready to get your mushroom on? Well I sure hope so because this month's theme is going to be our next book in the ATCitupwithfriends art book series – so bring your A Game! (course really you should be doing that every month right?! Right! Ok here goes
Mushroom fantasy is a a theme to challenge your character and environmental design skills. Your characters can be creatures or people but must have mushrooms as a key element to the character or scene. Some folks like to draw characters/creatures wearing mushrooms as clothes, or gathering them, or living mushrooms themselves, or a city made of mushrooms. Whatever you decide please be creative and try your best – this a challenge and there are a zillion species of mushrooms out there.  What this should NOT be is just a head covered in mushrooms with an empty background, or a card filled with mushrooms scattered about with no character featured. Run wild and create your character and some atmosphere or scene to go with them. Please remember detail and composition are important in our group's monthly trade challenges, so don't just go for a solid color flat background, empty atmosphere background, that my friends would not be challenging yourselves. Have fun and I can hardly wait to see what you all create! I will be reaching out to some of you to start early arrangements for the art book kickstarter on this one. I have not one but TWO pinterest boards to inspire you!
If ever in doubt just shoot me an email to ask a question. Send signups and any questions to ATCitupwithfriends@gmail.com 
~~~~~~~~~~~~~~~~~~~~~~~~~~~~~~~~~~~~~~~~~
These monthly themes are intended as a CHALLENGE as well as a way to trade fabulous original art and bond our little art community. Please rise to the challenge and treat your fellow artists with respect by putting in your best efforts. If you are unwilling to put forth true effort then please do not apply to join!