Ready for Round 3 of #ATCitupWithFriends?
If you are signed up for that month the cards must arrive to the host Pabkins (me) by the last day of the month!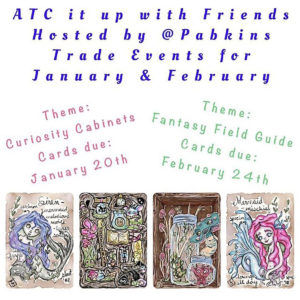 THEME: Fantasy Field Guide
DUE To Host by: February 28th, 2017 (due in my hot little hands by this date!)
SIGN UP: email pabkins at gmail dot come with "Fantasy Field Guide" in the subject line and your full name and instagram ID to sign up for this swap group.
Have you ever seen or read The Spiderwick Chronicles? For hundreds of years scientists, naturalists and dreamers and those of us who dreamed as a child that we could spy fantastical fantasy creatures living in our backyards. They would have gone into the wilds before the time of cameras (and even now with cameras) and captured creatures, flora and fauna in the pages of their sketch and field books. Sketching notes and observations as they see them.
The art you draw does not have to be art from this movie or book. It only need be in the fantasy field guide style. You can use whatever creature or fantasy species of your choice from existing movies, games, literature or make up your own. (For you video gamers out there – there are so many wondrous fantasy creatures and races in those games) The skies the limit.
Examples of technique:
draw your critter/creature/character perhaps add some flora/fauna.
You can use whatever medium you choose though this is a theme very friendly to sketchy styles and ink or watercolor washes. Why not add a drop or two of splatttered ink?
I personally plan to tea and coffee stain my cards before drawing. Maybe you'd like to add hatchwork randomly on the edges or a decorative inked border?
Perhaps try your hand at pretty hand lettering to include the name of your creature and odd random notes or facts like in the style of the images you see on the board.
Fade your images out so you have room to add the creatures name, figure/specimen # and random facts
PINTEREST BOARD: FANTASY FIELD GUIDES – for inspiration and examples