#ATCitupWithFriends is an ILLUSTRATION, Fantasy & Science Fiction focused
Art Challenge – Trade Group
ATC Monthly Trade Events hosted by Pabkins.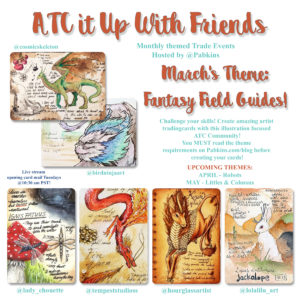 THEME: Fantasy Field Guides
DUE To Host by:  March 31, 2019 (due in my hands by this date!)
How to Request to Participate: You must either be an existing member of the ATCitupwithfriends community or if new to us please fill out the form at the bottom on this page to be placed on the waiting list. Currently the monthly trade group is full and is for the time being by invitation only. However I do try to add new artists to the group from the waitlist each month. So don't be discouraged! So please do fill out the form if interested in participating! If you've been specifically invited by Pabkins, fill out the form and you will get a confirmation email. Thanks for your understanding as there are now approximately 90-100 artists that participate each month. email ATCitupwithfriends@gmail with questions.
ATCitupwithfriends now has an ongoing Art book series! The info on how to be included is in the signup form at the bottom of this post.

There is also a fun monthly newsletter, signup is in the form.
~~~~~~~~~~~~~~~~~~~~~~~~~~~~~~~~~~~
See Pabkins open envelopes each week on Tuesdays @ 1030AM PST on my TWITCH CHANNEL!
March's THEME:
Fantasy Field Guides!
We are Fantasy Naturalists on a quest to document all the creatures and races of the unseen world! (Most of these cards will definitely be included in one of our upcoming books tentatively "Magical Creatures and Peoples" so best efforts folks!)
For hundreds of years scientists, naturalists and dreamers such as us have attempted to part the veil and see into the unseen world! We hope to spy fantastical creatures living in our backyards, oh was that a sprite nipping at your picnic sandwich? Those who dare to hope and dream would have gone into the furthest wilds before the time of cameras (and even now with cameras) and attempted  to capture creatures, flora and fauna in the pages of their sketch and field books. Jotting down notes and observations of what the see.
This is the mission before you! You have your trusty sketchbook, watercolor album, pens, markers, paints, and must capture the them as well as little details you observe on your cards.
Remember it CANNOT be fan art.
REQUIREMENT: Your cards MUST be done in a fantasy field guide style. You can use whatever creature or fantasy species/race of your choice from lore, myth, legend, or create your own! Card Must have the name of the creature/race/species on the FRONT in a field guide style, and some random observations. Again remember fan art is no longer permitted in these trade events, I say it twice because someone will definitely miss this important point.
Examples of technique to help you:
– Draw your critter/creature/character perhaps add some flora/fauna.
– You can use whatever traditional medium you choose.
– Maybe you'd like to add hatchwork randomly on the edges or a decorative inked border?
– Maybe you'd enjoy coffee or tea staining or splattering your card?
– If you burn your cards in anyway or cut them in anyway you MUST mount them to another paper to maintain the SIZE requirements and the rectangular shape of a trading card.
– Try your hand at pretty hand lettering to include the name of your creature and odd random notes or facts like in the style of the images you see on the board.
– A nice technique is to fade your images out in places (like you see in the pinterest board examples) so you have room to add the creatures name and random facts, maybe a species #, size info? likes dislikes? Have fun with it!
Some INSPIRATION in case you need it!
Fantasy Field Guide Pinterest Board
If ever in doubt just shoot me an email to ask a question. Send signups and any questions to ATCitupwithfriends@gmail.com 
~~~~~~~~~~~~~~~~~~~~~~~~~~~~~~~~~~~~~~~~~
These monthly themes are intended as a CHALLENGE as well as a way to trade fabulous original art and bond our little art community. Please rise to the challenge and treat your fellow artists with respect by putting in your best efforts. If you are unwilling to put forth true effort then please do not apply to join!