#ATCitupWithFriends is an ILLUSTRATION, Fantasy & Science Fiction focused
ATC Monthly Trade Event hosted by Pabkins.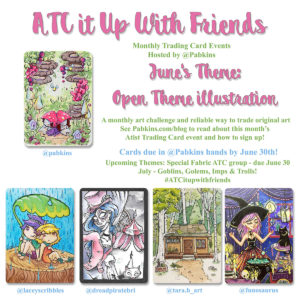 THEME: Open Theme Illustration
DUE To Host by:  June 30, 2018 (due in my hands by this date!)
TO SIGN UP: You must READ THIS BLOG POST!  – then fill out the questionnaire form at the bottom of this page (only fill it out the first time you join the group, all other months you want to participate you MUST email pabkins@gmail (I'm actually really easy going, so don't let all this FAQ blog scare you away!) AFTER you signup a confirmation email will be sent to you with the mailing address. You must be 18 years of age AND have a PUBLIC instagram account that has an art focus!
~~~~~~~~~~~~~~~~~~~~~~~~~~~~~~~~~~~
See me open envelopes each week on Tuesdays @ 10AM PST on my TWITCH CHANNEL!
June's THEME:
OPEN THEME ILLUSTRATION!
For the first time since I created #ATCitupwithfriends I am having an "OPEN THEME Illustration" month. Please keep in mind this group is focused on ILLUSTRATION and that is why I included it in the title – so please express yourself and the things you love to draw but keep in mind cards MUST still have either a character OR a scene/setting. Does that mean you can do just a landscape if you love landscapes? Yes! Or perhaps you love still life and figure drawing? Yes! Or just a portrait card? Yes! Do you still love doing story cards, fantasy cards, science fiction? Yes, we love those too! What it doesn't mean!? You can't just send a card covered in scribbles, collage or a single object floating in negative space. Can you send a space ship floating in the vast open negative space of the galaxy? Why, Yes of course! Do you see what I mean? You need a subject and context. Don't just send a repeating pattern of wallpaper…come on now that is not an illustration. As always no Political, Religious or Sexually explicit content permitted (tasteful nudity acceptable)
ILLUSTRATION DEFINED for the purposes of THIS group:
An illustration is a drawing, painting of art which explains, clarifies, illuminates, visually represents – someone, something or someplace! (I added that last bit)
If ever in doubt just shoot me an email to ask a question. Send signups and any questions to pabkins@gmail 
~~~~~~~~~~~~~~~~~~~~~~~~~~~~~~~~~~~~~~~~~
These monthly themes are intended as a CHALLENGE as well as a way to trade fabulous original art and bond our little art community. Please rise to the challenge and treat your fellow artists with respect by putting in your best efforts. If you are unwilling to put forth true effort then please do not apply to join!