#ATCitupWithFriends is an ILLUSTRATION, Fantasy & Science Fiction focused
ATC Monthly Trade Event hosted by Pabkins.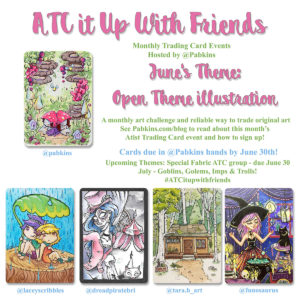 THEME: Open Theme Illustration
DUE To Host by: June 30, 2018 (due in my hands by this date!)
TO SIGN UP: You must READ THIS BLOG POST! – then fill out the questionnaire form at the bottom of this page (only fill it out the first time you join the group, all other months you want to participate you MUST email pabkins@gmail (I'm actually really easy going, so don't let all this FAQ blog scare you away!) AFTER you signup a confirmation email will be sent to you with the mailing address. You must be 18 years of age AND have a PUBLIC instagram account that has an art focus!
Donations to help this art community are gladly welcome and accepted! Ways to donate:
Group's Amazon Supply Wishlist: –

#ATCitupwithfriends Amazon

Paypal donate:

Uncheck the goods and services checkbox: –

http://paypal.me/pabkins

Patreon: To receive rewards directly from me – I have a monthly sticker subscription and ACEO reward levels: – https://www.patreon.com/Pabkins
Or slip extra stamps or whatever $ you'd like into the envelope you send your cards in.
Prints, Stickers, extra original ATCs, or any flat items smaller then 5×7 are gladly accepted as I stuff the envelopes with "extra goodies" whenever I can. Do not send bussiness cards I will not forward those on, just be sure your instagram ID is on the back so they know who you are.
Running the group really adds up and I know not everyone can afford to help, indeed I don't have a job right now either so I totally understand tight budgets. There is no pressure whatsoever! I have this here so its easy for folks to find it if they are able to help out. I do keep track of these things and try to reward folks that help support the livelihood of the group! So if you donate please put your userid so I know who to thank!
~~~~~~~~~~~~~~~~~~~~~~~~~~~~~~~~~~~
See me open envelopes each week on Tuesdays @ 10AM PST on my TWITCH CHANNEL!
June's THEME:
OPEN THEME ILLUSTRATION!
For the first time since I created #ATCitupwithfriends I am having an "OPEN THEME Illustration" month. Please keep in mind this group is focused on ILLUSTRATION and that is why I included it in the title – so please express yourself and the things you love to draw but keep in mind cards MUST still have either a character OR a scene/setting. Does that mean you can do just a landscape if you love landscapes? Yes! Or perhaps you love still life and figure drawing? Yes! Or just a portrait card? Yes! Do you still love doing story cards, fantasy cards, science fiction? Yes, we love those too! What it doesn't mean!? You can't just send a card covered in scribbles, collage or a single object floating in negative space. Can you send a space ship floating in the vast open negative space of the galaxy? Why, Yes of course! Do you see what I mean? You need a subject and context. Don't just send a repeating pattern of wallpaper…come on now that is not an illustration. As always no Political, Religious or Sexually explicit content permitted (tasteful nudity acceptable)
ILLUSTRATION DEFINED for the purposes of THIS group:
An illustration is a drawing, painting of art which explains, clarifies, illuminates, visually represents – someone, something or someplace! (I added that last bit)
If ever in doubt just shoot me an email to ask a question. Send signups and any questions to pabkins@gmail
~~~~~~~~~~~~~~~~~~~~~~~~~~~~~~~~~~~~~~~~~
These monthly themes are intended as a CHALLENGE as well as a way to trade fabulous original art and bond our little art community. Please rise to the challenge and treat your fellow artists with respect by putting in your best efforts. If you are unwilling to put forth true effort then please do not apply to join!
~~~~~~~~~~~~~~~~~~~~~~~~~~~~~~~~~~~~~~~~~
PLEASE FOLLOW THE ADVISED SHIPPING TIME! – if your cards don't arrive by the due date I DO NOT guarantee they will make it into the swap group.
US ARTISTS

– Your envelope to me SHOULD BE MAILED AND POSTMARKED on or before the 25th of that month as Mail within the US typically takes 2-6 days

CANADIAN ARTISTS

– Your envelop SHOULD BE MAILED AND POSTMARKED on or before the 20th of that month. Mail from Canada to US usually takes 4-10 days.

INTERNATIONAL ARTISTS

– Your envelop SHOULD BE MAILED AND POSTMARKED on or before the 15-20th of that month as it can take anywhere from 7-20 days to reach the US depending on your country (Phillpines, New Zealand, Australia, Poland, Sweden all tend to take 15-20 days to reach me so please keep in mind the later you mail the less likely your cards will make it into the swap!)
– SENDING EARLY IS FINE! SENDING LATE IS NOT! It is upon my discretion to return late cards back to the artist's unswapped. If you are a constantly late mailer I will start returning your cards unswapped. Please extend me some respect by mailing in a timely manner! I DO check postmark dates, so if your cards arrive outside my grace window and I notice you mailed them the last day of the month or after, it is upon my discretion to send them back to you unswapped. These events happen every month so sending late really affects my schedule.
~~~~~~~~~~~~~~~~~~~~~~~~~~~~~~~~~~~~~~~~~
HOW THIS ALL WORKS! This is the GUIDELINES AND FAQ!
You should definitely read this!:
– CREATE 3 ORIGINAL Hand drawn or hand painted artist trading cards from the above theme. No Political, Religious, or sexually explicit cards permitted. Or I will need to return them unswapped. If you wonder if you are a good fit for the group simply peruse the hashtag gallery. Originality and diversity is welcome.
– SIZE MATTERS! Cards absolutely must be the standard size of 2.5 x 3.5 inches NO LARGER! NO SMALLER! with straight cut edges or your cards will be returned unswapped. (vertical or horizontal is fine) I CANNOT STRESS THIS ENOUGH!!
– All Artists mail their cards to Pabkins – I'll swap them for 3 different artists based on Effort for Effort taking into consideration the amount of detail and composition you sent in.
– Optional: – "Host Gift Card" for Pabkins! It's just an extra 4th card in the same theme if you have time. Everyone that knows me knows I'm a CRAZY ATC addict. Running this group takes a lot of my time and effort and I frequently make extra cards for the group, thus I don't do many personal trades elsewhere. So if you want to put a big smile on my ATC loving face send 4 cards instead of 3 and I'll get to keep one – Yippeee! I literally do a happy dance when I get one!
– All Cards must be RECEIVED by Pabkins on or before the DUE DATE! I try to give a short 5-7 day grace period if you've mailed out in a timely manner and notified me asap. It is up to my discretion to turn away artists that are constantly late in sending their cards, or if they rushed the quality. It isn't fair to swap out your 1 hour rushed cards for ones others spent a fair amount of time on. Please don't make me the bad guy.
– You only receive cards if you send cards. Please share a photo of your completed cards to the #ATCitupwithfriends hashtag when you are done. That way I can see that you made them!
~~~~~~~~~~~~~~~~~~~~~~~~~~~~~~~~~~~~~~~~~
HOW TO MAKE YOUR CARDS!?
I know I know this is lengthy – but its just so that we all have the same expectations
– CLEARLY write ON BACK OF EACH CARD:
Your name , InstagramID and #ATCitupwithfriends
– ORIGINALS only! No prints! Do not copy someone else's art, no copying images you found on the internet, no tracings, If you reference something don't reference something else to death such that it isn't your own!, no stolen art, no stamps or linocuts. Create your own original work of art!
Hand drawn or painted cards only! Don't make 3 practically identical cards, that does not show creativity or effort! DO NOT send the exact same face shot and composition cards every month, break outside the box and try something new.

If you question that quality or content of your own card and know in your heart that you wouldn't be happy to receive it please consider that before sending it in! Why not remake it and send the card you're unsure of as a "donation" card – feel free to message me for feedback.

Originality and "thinking outside the box" is encouraged! We all love artistic creativity, but IF your interpretation makes the theme

unrecognizable

then it is not meeting the theme requirement and not fair to be swapped. #ATCitupwithfriends is intended as a challenge community as well as an awesome trade, but when signing up for a theme – you are saying you will create in that theme!
No collage, stamped, embellishments that popup from the surface and No glued together bits and bobs. Papercut is fine as long as it's your original work. This is NOT a scrapbooking style art trade group!
No Religious, Political or obscene sexually explicit content in your cards. Tasteful Nudity is acceptable, obscene/grotesque nudity is not.
Remember while I will accept fan art it MUST not by a copy. I'd much rather you create your own unique creatures and characters. Indeed I STRONGLY encourage you to do so. Sending fan art makes it difficult for me to swap! Consider and think about how not everyone is a fan of what you are a fan of. This group's focus is on illustration and original content. I'm hoping that you will flex your creative muscles to create your own art rather then fan art. If all you prefer to draw is fan art this may not be the swap for you.
Do not use super thin paper! Your cards should NOT be flimsy, if they are thin you should mount them to another piece of paper. Please use a quality paper.
Do not send cards that shed! So no glitter! Glitter ink is acceptable as it does not shed, so if you like things to shine then grab yourself a glitter ink pen. They must not "shed" material like chalk, graphite etc, you should be spray sealing your cards if they are a material that tends to wear away. If touched – paint, glitter, chalk etc should not rub off onto someone's hands.
They should not be smelly or sticky! If you use a sealant, varnish or spray, etc – it must not smell strongly of chemicals or leave the cards sticky! There are a lot of good sealants out there that don't smell like I'm going to get sick from fumes when I open the envelope.
A good rule of thumb is – if you had to glue it on, or if its a STICKER then it is not allowed in this group. The ONLY exception is hand cut papercut accents. This is upon my discretion. Please just ask if you have questions. The only reason I add all of this is because there are other "mixed media collage" type trading groups around the internet, this is not one of them. Thanks for understanding.
If you can't manage a straight cut edge on your own please buy some precut paper to make your cards, otherwise I will return poorly cut cards unswapped (as that isn't fair to others)

Do NOT leave flat white backgrounds

, this is not a rough quick piece of art, it should be a fully finished piece of art and you should be touching the entire surface of the card. If in doubt please reach out to me for feedback. Solid flat backgrounds are discouraged.

Please put in some actual effort and try for a background on your card

It is up to my discretion to return cards unswapped! Examples of when this might happen are if they: 1) arrive too late, were sent too late to go into the swap (or you've consistently been late each month, or were mailed on or after the DUE in my hands date!) 2) Do not fit the theme, Please read the THEME REQUIREMENTS! 3) show lack of honest effort or there are no comparable effort cards to swap them with, 4) they do not meet the size requirement, rough edges, poorly cut or 5) are damaged. Please do not make me the bad guy. pleeease
– SHARE ON SOCIAL MEDIA! – it helps our litle ATC trade event grow and builds a sense of community. So post your WIP cards! Post your finished cards! you can even post the cards you receive in return! on instagram and hashtag #ATCitupwithfriends. Get all those other traders fired up for what they might receive – and hey go take a look at the hashtag and comment on the ones you like. I am always looking at the hashtagged posts! Please DO NOT share posts on the hashtag unless they are specifically cards you've sent in for this trade group.
– INDIVIDUALLY sleeve each card – document protectors, penny sleeves PREFERRED (see this link), or ziplock bag – just protect it as envelopes often get wet! If you don't have sleeves I will sleeve them when they arrive but still put them in protection of some kind.
LOST MAIL, LOST CARDS – I am not responsible for lost or stolen mail. If I do not receive your cards I cannot swap out cards from the group swap. I try to make sure no one goes with an empty mailbox but I cannot do this alone as the group is too large. At least 2-4 envelops a month go missing. Donation cards for lost or stolen envelopes are appreciated. If I attempt to replace a lost envelope it will be solely upon my discretion and likely only if you are an outstanding member of the group. I have a sneaking suspicion I have been duped several times over the past year. Brand new participants
A LINK TO USPS Postage rates for First Class mail –

1 ounce envelopes (greeting card size no larger then 5×7)

= costs 1 forever stamp

Envelopes that are rigid, square in shape, more then 3/4 inch thick, or larger then 5×7 is considered "non machineable and requires a 2 ounce stamp OR 1 forever stamp and one 21 cent stamp =

costs 71 cents as of January 21, 2018

Anything that is in a bubble mailer, or that is in a hard / rigid is considered a PACKAGE and will cost you roughly = costs $3 as of January 21, 2018.
If in doubt shoot me a message. I have been having to pay "postage due" at the post office very frequently lately for folks that have been not been applying the correct number of stamps to their mail.
~~~~~~~~~~~~~~~~~~~~~~~~~~~~~~~~~~~~~~~~~~~~~~
HOW PABKINS WILL SHIP YOUR RETURN ENVELOPES!
INCLUDE YOUR POSTAGE AND RETURN ADDRESS LABELS PLEASE!!!!
– You are welcome to send a self addressed stamped envelope if you'd like but it must be 4×6 or 5×7 inches – sending an envelope is not necessary as I provide those for everyone but are welcome to if you are able – Please do NOT send envelopes larger then 5×7 as those require 2 stamps to mail and take up TOO much space on the floor during swapping and in my inbound mail sorter.
– U.S. ARTISTS: include a Postage stamp, or however many it cost you to mail your envelope! So if your cards are heavy then 2 postage stamps (please don't forget – many of you have been forgetting) – see above for info on typical costs for mailing cards.
– INTERNATIONAL ARTISTS: please donate $1.15 via the Paypal friends and family method by clicking this link and you MUST UNCHECK the goods and services box or they will charge me to accept your funds and I'll get taxed on it – which isn't fair to me! An international postage stamp costs $1.15 – you don't have to send an envelope I will cover that.
– INCLUDE a LARGE and CLEARLY WRITTEN RETURN ADDRESS paper or sticky label with your cards!!!! (sticky label preferred – come on make it easy on me! but a piece of paper with your address clearly written on it is fine also and I'll tape it to the envelope. Don't send a tiny address label – how is the postal sorting machines going to read that!?
– What Pabkins' SUPPLIES: the return envelopes (you don't have to send a self addressed envelope, only if you want to), sleeves and postage overages (I often have to add an extra stamp to envelope that go over an ounce), Random prints, stickers, and sometimes extra originals, I also send folks sleeves and blank address labels when they don't have them because that just makes things easier for me.
DONATIONS ARE WELCOME! We have a Amazon supply wishlist for the group, a Patreon where you can earn rewards directly from me, slip in anything you'd like to your envelope to the group or Click this link to paypal donate! and uncheck the goods and services box!
I attempt to mail return Envelopes back out within 12-15 days after the Due by date each month. However I start swapping on the 7th day of the month. The swap process takes a lot of time as there are always a LOT of cards. Opening, sorting, laying out, matching, reading comments and then adjusting, taping down, sealing up etc all takes about a week. Please be patient. You can see updates in our Discord live chat room. If you've never used discord I recommend you turn off the notifications when you download the app. Or it will get annoying!! Here is the link. DISCORD LIVE CHAT GROUP
– REQUIRED: FILL OUT THIS ARTIST INFO QUESTIONNAIRE (it helps me know your likes and dislikes so I can better swap cards – you only need to fill it out once ever. Then if you want to participate again you MUST email pabkins@gmail to signup for that month. After you signup you will receive a confirmation email back usually within 1-3 days with the mailing address)